Our Financial Planning Process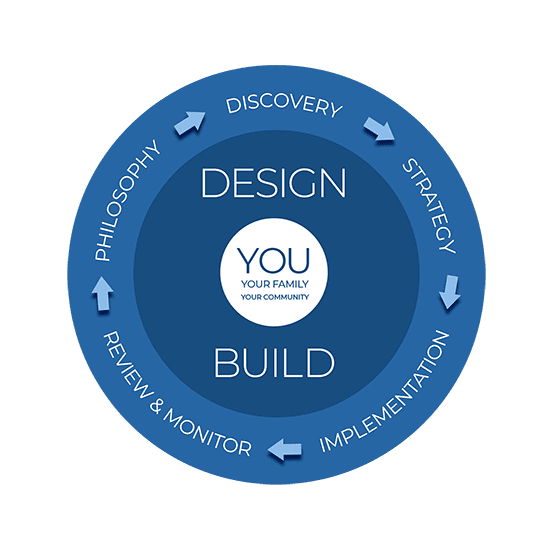 Financial planning is a process, not a product. It means wisely managing your finances over the long term so you can achieve your goals and dreams, while at the same time responding to the financial challenges that inevitably arise in every stage of life.
Our method utilizes a two-phase process: a design phase and a build phase. If you compare building a financial plan to constructing a house, your advisors at Strategic Wealth Design first act as architects to design the house, and then as contractors to build it.
In order to design and build a financial plan for you, we start with our philosophy – when it comes to money, people are only looking to achieve two things: Financial Security and Financial Freedom.  In the discovery phase, we discuss your current situation, your goals, and your plans for the future. Then we strategize with you to develop a plan to help you reach your goals. Implementation is the most important part of the process where we assist you in implementing the recommendations and the strategy laid out for you. We continue to monitor your plan so we can adjust to milestones in your life and changes in market conditions.
Tiers of Financial Planning Services:
 

Security

Control

Freedom

Access to Financial Planning Tools

Financial Plan:

• Financial Organization
• Insurance Policy Review
• Cash Flow Analysis
• Student Loan Planning
• Portfolio Review
• Employee Benefit Review
• College Planning

Retirement Income Planning:

• Employer Retirement Plan Maximization
• Social Security Planning

 
Tax Planning and Projections
 
Estate Planning
 
 

Business Planning:


• Corporate Retirement Plan Optimization

 
 
Strategic Wealth Design
2190 East Pebble Road, Suite 260
Las Vegas, NV 89123
Office Hours:
Monday: 8:00am-5:00pm
Tuesday: 8:00am-5:00pm
Wednesday: 8:00am-5:00pm
Thursday: 8:00am-5:00pm
Friday: 8:00am-5:00pm
Saturday: By Appointment
Schedule 30-minute Consultation
Use the button below to schedule a complementary introductory call.