Our Financial Planning Process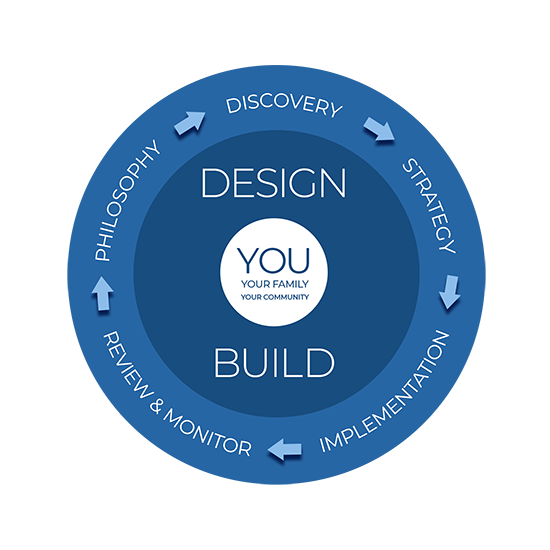 Financial planning is a process, not a product. It means wisely managing your finances over the long term so you can achieve your goals and dreams, while at the same time responding to the financial challenges that inevitably arise in every stage of life.
Our method utilizes a two-phase process: a design phase and a build phase. If you compare building a financial plan to constructing a house, your advisors at Strategic Wealth Design first act as architects to design the house, and then as contractors to build it.
In order to design and build a financial plan for you, we start with our philosophy – when it comes to money, people are only looking to achieve two things: Financial Security and Financial Freedom.  In the discovery phase, we discuss your current situation, your goals, and your plans for the future. Then we strategize with you to develop a plan to help you reach your goals. Implementation is the most important part of the process where we assist you in implementing the recommendations and the strategy laid out for you. We continue to monitor your plan so we can adjust to milestones in your life and changes in market conditions.
Tiers of Financial Planning Services:
Access to Financial Planning Tools

Financial Plan

Financial Organization
Insurance Policy Review
Cash Flow Analysis
Student Loan Planning
Portfolio Review
Employee Benefit Review
College Planning
Security Plus:

Retirement Income Planning

Employer Retirement Plan Maximization

Social Security Planning

Tax Planning and Projections
Control Plus:

Estate Planning

Business Planning

Corporate Retirement Plan Optimization
Strategic Wealth Design
2190 East Pebble Road, Suite 260
Las Vegas, NV 89123
Office Hours:
Monday: 8:00am-5:00pm
Tuesday: 8:00am-5:00pm
Wednesday: 8:00am-5:00pm
Thursday: 8:00am-5:00pm
Friday: 8:00am-5:00pm
Saturday: By Appointment
Schedule 30-minute Consultation
Use the button below to schedule a complementary introductory call.
Securities offered through Registered Representatives of Cambridge Investment Research, Inc., a broker-dealer, member FINRA/SIPC. Advisory services through Cambridge Investment Research Advisors, Inc., a Registered Investment Advisor. Cambridge and Strategic Wealth Design are not affiliated. This communication is strictly intended for individuals residing in the states of AZ, AR, CA, CO, CT, FL, KY, MO, MT, NV, NM, NY, OR, TN, TX, UT, WA. No offers may be made or accepted from any resident outside the specific states referenced.
The information being provided is strictly as a courtesy. When you link to any of these websites provided herein, Strategic Wealth Design makes no representation as to the completeness or accuracy of information provided at these sites. Nor is the company liable for any direct or indirect technical or system issues or any consequences arising out of your access to or your use of third-party technologies, sites, information, and programs made available through this site.