A Review of the 1st Quarter of 2022
The first quarter of 2022 was rocky, the worst we've seen since 2020.1 Inflation, Russia's brutal invasion of Ukraine, and concerns about Federal Reserve interest rate hikes all contributed to the volatility and market losses. However, let's also keep in mind that markets have come a long way in the past few years and quarterly losses are part and parcel of being a long-term equity investor.
Let's take a look at how markets performed and what we might look forward to in the months to come.
How Did Markets Perform Last Quarter?
What Can We Expect in the Months Ahead?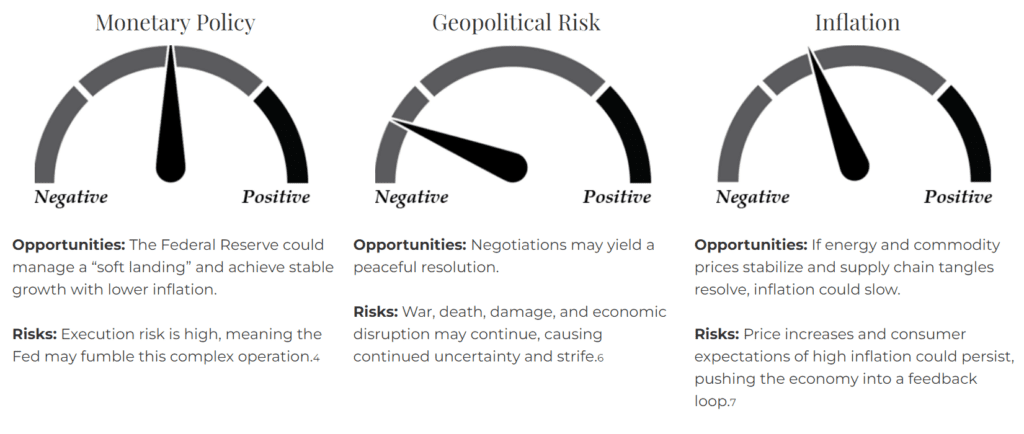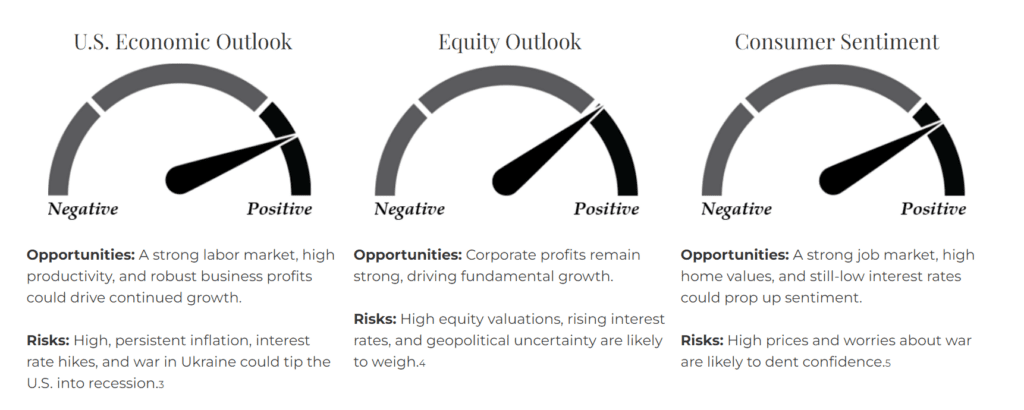 ---
""Markets had a rocky start to the year, and it's hard to predict what could happen in the months to come."
---
Key Takeaways for Savvy Investors
There's a lot of uncertainty facing us this year, and it's not likely to let up any time soon. Overall, I'm cautious about where the economy and markets will go this quarter.
Could we be facing a bear market or recession? Absolutely. Given the risks highlighted above, it's a real possibility this year.
However, we also have a strong economic engine that could shrug off these risks and keep chugging away.
Times like these favor flexibility, resilience, and a focus on long-term goals.
Bottom line, I'm keeping a close eye on market conditions, as continued uncertainty could drive sudden changes, and I'll be in touch as needed.
Questions? Please reach out. I'd be happy to chat.
---
Sources:
1 https://www.cnbc.com/2022/03/30/stock-market-futures-open-to-close-news.html
2 https://www.marketwatch.com/story/u-s-stock-futures-edge-higher-on-last-day-of-a-difficult-quarter-11648720398
3 https://www2.deloitte.com/us/en/insights/economy/us-economic-forecast/united-states-outlook-analysis.htm
4 https://www.morganstanley.com/ideas/goldilocks-economy-return-unlikely
5 ​​https://www.reuters.com/business/us-consumer-sentiment-falls-early-march-inflation-worries-mount-2022-03-11/
6 https://www.cnbc.com/2022/03/06/war-fallout-us-economy-to-slow-europe-risks-recession-and-russia-to-suffer-double-digit-decline.html
7 https://www.cnn.com/2022/03/29/economy/us-inflation-consumer-psychology/index.html
U.S. Economic Outlook, Equity Outlook, Consumer Sentiment, Monetary Policy, Geopolitical Risk, and Inflation gauges: https://www.cnr.com/insights/speedometers.html (April 2022)
Advisory services offered through Cambridge Investment Research Advisors, Inc ., a Registered Investment Adviser. Strategic Wealth Design and Cambridge are not affiliated.
The S&P 500 is a stock index considered to be representative of the U.S. stock market in general. The NASDAQ Composite Index is an unmanaged composite index of over 2,500 common equities listed on the NASDAQ stock exchange. The Dow Jones Industrial Average is a price-weighted index that tracks 30 large, publicly traded American companies.
All index returns exclude reinvested dividends and interest. Indices are unmanaged and cannot be invested into directly.
Risk Disclosure: Investing involves risk including the potential loss of principal. No investment strategy can guarantee a profit or protect against loss in periods of declining values. Past performance does not guarantee future results.
This material is for information purposes only and is not intended as an offer or solicitation with respect to the purchase or sale of any security. The content is developed from sources believed to be providing accurate information; no warranty, expressed or implied, is made regarding accuracy, adequacy, completeness, legality, reliability or usefulness of any information. Consult your financial professional before making any investment decision. For illustrative use only.